Our second thematic conference!
On the 12th and 13th of May, the Where Does Europe End 2.0 team was once again delighted to open a wonderful online event! It was time for our second thematic conference: European History and Geography: Explore Europe!. During this event, we wanted to focus on some key concepts related to our European identity: our historical past and geographical circumstances. The aim was to keep our conference interactive and interesting for everyone.
By focussing on history on our first day and geography on the second, we explored how Europe has shaped our identity through time and borders.
May 12 – History
On our first day, we introduced ourselves shortly. However, soon after we had to play a whole other person, as everyone was assigned a historical role for our role playing game. Some of us were merchants from the 1600's, others lived in the Roman empire, some during WWI and so on. It was an amazing experience to all dive into a role and look at the world from a different perspective, which is a theme we tried to carry on throughout the day.
After the game, participants had the opportunity to choose between two different workshops during our parallel slot. One of these, the dinner table discussion, used the same roles from our beginning game. Instead of delving into a role, we now had to make a dinner table arrangement of different historical characters in such a way that our ''dinner party'' would be a huge success. The activity was facilitated by Alice Modena from EuroClio and was a very fun and engaging way to implicitly learn about how different people and time periods relate to each other, either in a positive or negative sense.
The other option of the day was to join a lecture by Caterina Maggi on the topic of decolonisation in the Middle East. Specifically, the workshop focused on the European historical responsibility as well as interconnectivity with the MeNA region. Different topics were addressed, such as the history of the Isrealo-Palestinan conflict and Lebanese involvement in the refugee crisis. It was concluded that due to its interconnectedness with the European continent, this region should have a more anchored presence when we think of European history as a whole.
We ended our first day with an interactive discussion slot that was once again facilitated by Alice Modena. In this session, there were 13 different influential historical characters in a hot air balloon, such as Hitler, Charlemagne, Stalin, Simone Veil and Alexander the Great. Out of these characters, only 3 could stay in the hot air balloon. Participants were given some time to look up the different characters and give arguments on why or why not someone should be kicked out of the balloon. Afterwards, we all voted on who should stay or go. It was a very interesting and interactive event, which makes you reflect on to what extent historical figures have influenced Europe.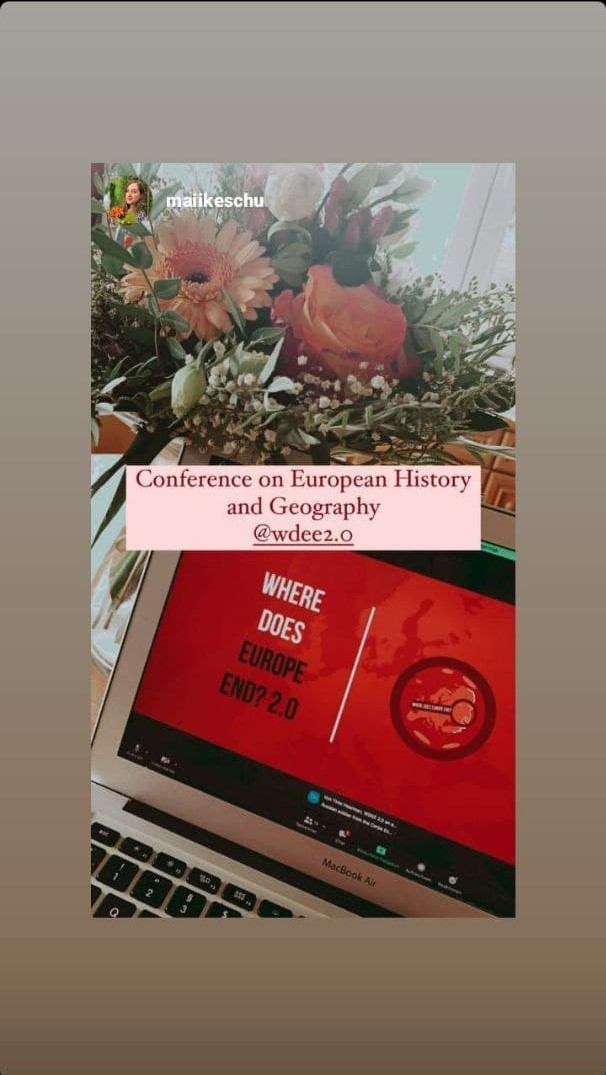 May 13 – Geography
On our second day, our main geographical focus was on the topic of borders. This immediately became apparent, as we started the day with a map drawing game. People were asked to draw geographical constructs and facticities in a map, such as rivers and mountains. Afterwards, borders were drawn according to these geographical constructs.
After the game our participants had the chance to join an interesting session on cross-border coöperation by Nora Crossey. The first part of the session was rather informative, while afterwards there was time for discussion between participants. The informative part particularly focused on research that had been done in the French-German border region and on the fact that border coöperation can bring new opportunities as well as new challenges within a region. Some interesting insights were given to what extent people have experienced border coöperation in the regions they live in, even between participants who both lived close to a bordering country. It was interesting to see how the degree of cross-border coöperation is not the same in every country, nor is it perceived in the same way by its inhabitants.
The last session of the day was a lecture and discussion by old AEGEE-member and geopolitics professor Alfonso Giordano. One of the first things he told us is that it is impossible to not make a session about borders controversial, as geopolitics in itself will never be politically correct. As humans, we often fight for the most ''prosperous'' territory. During the session, participants were shown many interesting examples of how different borders have been shaped and are influenced by regional differences, such as the prosperous ''blue banana'' region. We also learned that not all European citizens view Europe and it's cross-border unitedness as the same, as not everyone feels the same way about it's unity. In the end, we took a look at the maps that had been drawn at the beginning of the day. It was an information-packed politically incorrect session!
In general, we think this conference was a successful event, which led to many new insights for both our participants and the project team members that joined. Are you wondering what's coming up next? Make sure to check our Facebook and Instagram pages as well as our ''upcoming events'' website page regularly!